Why agencies need a barcamp?
For the past couple of month I joined two "Agenturcamp" events, one in Munich(October) and the other one in Hamburg (November), both events were organized by Hans-Gerald Kühn. Before deciding to participate, I thought to myself why an agency camp is required. Some years ago I visited a lot barcamps and know the format of those events, so I decided to give it a try.
What were the discussed points?
My first impression was, all participants have in their daily business similar challenges and open questions. And the most discussed three topics were, how to handle pricing, how to optimize the production process and how to recruit and keep talents. Here is the bottleneck why agencies are forced to rethink how they are working and this was the base of the main discussions.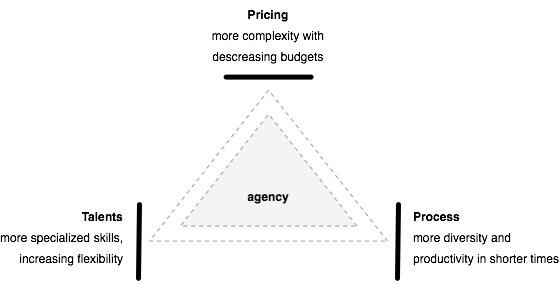 Pricing
The sessions about pricing were popular in the camp. Clients having a freebie mentality, the projects are getting complex, but the budgets are not increasing. This is causing high pressure on the agency and its employees. Creative and good work needs time and time means money.
What is a fair and good pricing model?
Should agencies pitch or not?
How to handle bad briefing?
How to prepare offers?
On the one hand agencies suggested the classification of every possible service to calculate a very detailed offer and create pricing standardisation based on predefined service list. On the other hand other agencies suggested that they shouldn't provide detailed offers. Sven Ditz from sitegeist presented "working without a real price". He suggested to partner with the clients, make projects based on trust and save clients budget by focussing on minimal valuable products.
Every agency have a different client portfolio and I don't think there is only one way. I am sure, on the next agency camps, pricing topic will keep its popularity.
Process
Agencies are mostly project driven companies. In the last years agile methods got very popular. It was created as an alternative for traditional project management or sequential development. The agile approach help teams to work in an iterative cycle and respond to unpredictable cases.
The sessions was generally about
Which project or production management method (Scrum, Kanban, etc.) is the right one?
How to implement those methods in the agency?
How much insights should the client get about the production process?
Talents
This was one of the most mentioned topics without any real session about it. Agencies need talented and skilled people to exist. Working at an agency is no more the number one choice of skilled people. Meanwhile those employees have other alternatives like Startups, Cooperates and Software Houses, who are competing for the same talents.
Markus Hanauer @spiritlink made a very informative session about his company organization and how he incentive his team members.
What skilled people are looking for?
How can an agency inspire its employees like startups and give them a vision?
Environment (colleagues, office, etc.)
Flexibility (working time & location)
Learning (the next experience)
Payment
The agency camp felt like looking into a mirror. What was started as a chance to find something new for our agency ended up by realising that all the sector is suffering from the same problems. And every participant were searching  the same answers and solutions. The deep talks with other agency owners gave me at least the confirmation, "rethink everything" is a must today. And there are a lot of questions to be discussed in further at agency camps.
In future i will share our experience about  how we changed our classic full-service agency to a service-as-a-platform. And how we currently digitalize our whole processes from scratch to create a client self-service driven production.
---
And here are the next camps:
Die AgenturCamps "New Work" 2017
Die AgenturCamps "Agenturen im Aufbruch" 2017
---
Also published on Medium.